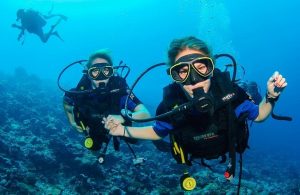 PADI DISCOVER SCUBA DIVING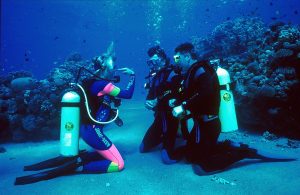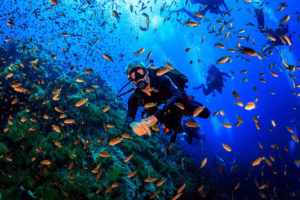 PADI ADVANCED OPEN WATER DIVER
Who are
ABT Divers
We are part of the Salalah based company Arabian Beach Tourism, which has many activities within tourism. The diving branch has operated in Salalah since 2008. We are currently located in the Crown Plaza hotel since 2014 and from Hilton Resort since 2006. ABT Divers have two boats for diving and watersports activities.
 From Salalah, we go boat diving in the area between Donkeys Head and Fazayah beach.  Besides boat adventure, we offer shore diving and snorkeling. Driving through desert landscape and off-road trails to the pristine beaches in Mirbat.
We are a PADI dive-center and offer all courses from Bubble Maker for the young ones (8-10 years) up to the first professional Dive Master level. Our multi-lingual instructors have a wide varity of experiences in guiding and teaching. Among our basic courses we also offer many specialties.
Experienced local guides are available to take you on one of our many watersports activities. ABT offers fishing trips from near our base hotel in Salalah to Mirbat and Taqah for individuals to groups.
Testimonials
I recently completed my open water dive certificate and found ABT divers to not only be professional but extremely helpful and friendly, I would have no hesitation recommending others to do the same. Know I am looking forward to all my future dives with ABT and cant wait to go out with them again.

stevehilferty

I have done over 10 dives with ABT Divers in Salalah, Oman. They are very professional with an team of highly experienced and friendly Dive Masters & Instructors. I hadn't dived for 5 years so completed my ReActivate Scuba Review to refresh my skills which was a great way to get my confidence back. There are various walk-in & boat dives around Salalah/Mirbat including a wreck dive. Sea life includes huge honeycomb Morley eels, blue spotted & eagle rays, turtles, scorpion & lion fish, barracudas, soft & hard coral, cuttle fish, nudibranchs, banner & bat fish to name a few.

Lucykim H

We (2 DM and 2 instructors) had a great time doing 7 dives over 3 days with ABT divers. Thank you very much to the ABT dive team for some good dive days - will try to return with our kids, as the dive sites we visited would be very well suited for beginners/junior divers - but not at all "boring" for people with long experience.

DKtoAD

Karsten @ Lisbeth are a couple who run this small business. If you really want to have fun and enjoy Salalah diving or snorkeling, than this is the couple to contact. Professional, friendly and an experience you will not forget, as I will never forget this snorkeling experience (I am scared of diving) , they made me feel comfortable,and highly recommend them

TitoRon

Very professional divers. I felt very safe and the dive was excellent!!! There are a lot of things to see!! Enjoy

Anele I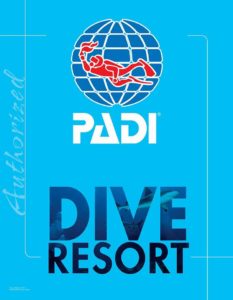 ABT Divers is certified with PADI (Professional Association of Diving Instructors)